General rules:
We require that cancellations of service are done through the online form to (a) confirm your identity, (b) confirm in writing you are prepared for all files/emails to be removed, and (c) document the request. This process reduces the likelihood of mistakes, fraudulent/malicious requests, and ensures you are aware that the files, emails, and account may be removed immediately after a cancellation request is processed.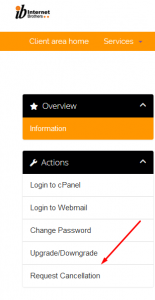 Before requesting to cancel service, if there was any problem with the service or something you needed that we didn't have, please let us know what it was so that we can try to help.
How to send a cancellation request:
Login to the client area with your ID and password, Go to your service or product you have with us, in that page you will see the name of your product or service, fees, Active status etc. Simply click on that row and you can see your service details with a request cancellation link on the left.
You need to cancel it by clicking on that link. *If you are a client but there is no item under Product or services, It is because you are using a customized Service in this case only you can send your cancellation request through a ticket.
It is advised that you backup your site files and emails to save a copy for your records prior to cancellation of service.  If you have made a paypal subscription please unsubscribe first. Please refer to Paypal help page.
Refund:
1. Cancel your account in our billing department. 2. Ask for a refund by contacting our billing department
New Clients and Money back Guarantee:
As a new client, if you are entitled to 30 days money back Guarantee ( the order page says so ), to get a refund your cancellation request must be done at least 7 days before the end or your 30 days money back Guarantee period. Cancellation of hosting without request for refund does not constitute a request for refund. Customers who previously requested refund are not applicable to receive future refunds. Late cancellations, late refund request as well as accounts canceled by our company due to TOS violations, do not qualify for the money back guarantee.
All payments for dedicated server rentals, setup and service fees are non-refundable. Money back guarantee does NOT apply for any dedicated server payments unless it has been clearly accepted before ordering or in the order page. Invoices that have been paid more than once with multiple Paypal Subscriptions can only be added as credit towards the account unless you decide to close your whole account and you should ask in a billing ticket. Please note we are not responsible for payment gateways fees. Due to the costs associated with processing payments made by some payment gateways a percentage of your payment is not refundable. Some payment gateways charge about 6% for processing. This fee will not be refunded to you.
Bank Wire Transfers, (from outside Korea), Western Union Payments, Checks, Money orders payment method  are non-refundable.
Refund policy does not apply to translations and promotion services.
Internet Brothers reserves the right to modify the present refund policy at any time without any prior notice to you.